[ad_1]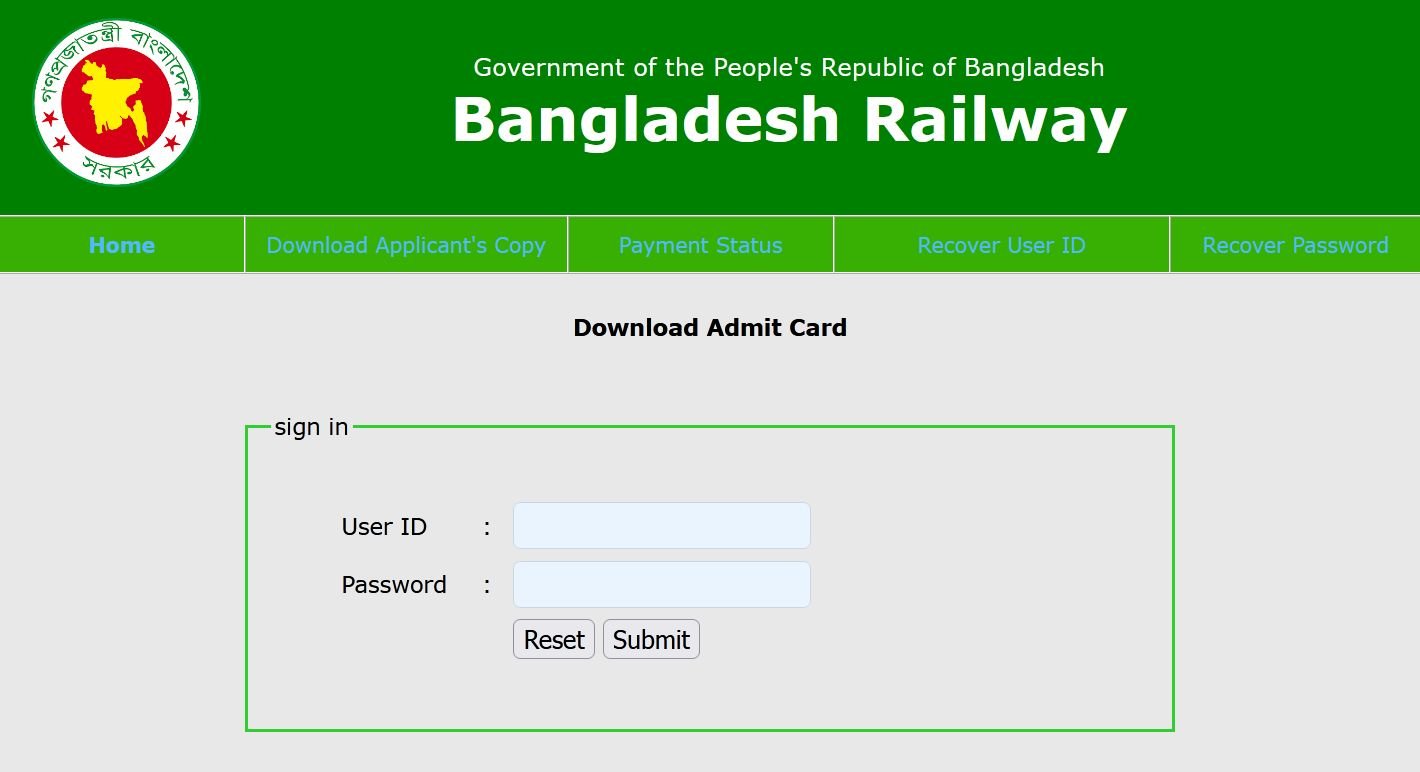 You can get the railway admit card from your home as it's available online. It's essential that you take the admit card with you during the railway exam as you won't be able to take part in the exam otherwise.
Luckily, it's extremely easy to get your admit card and it'll only take you a few minutes to do that. And the best part is that you can even do it using your smartphone with an active internet connection. Below, let's check out how you can download your railway admit card and troubleshoot if you've lost any valuable information that you need to get the card. Make sure to read the whole thing so that you don't miss out on any important information.
Railway Admit Card
The railway admit card is absolutely essential for the upcoming Railway guard/Assistant Locomotive Master exam. But you can get it from the official online website of Bangladesh Railway, which is super convenient for everyone.
So, you can get the card from anywhere in Bangladesh at any time. The online method helps to save you a lot of time, energy, and money, which is just incredible. We'll talk about how to navigate through the website to get the benefits below.
Railway Admit Card Payment Status
You can check the payment status of your railway admit card easily from the official Bangladesh Railway website. However, if you haven't done it before, it can be a bit confusing for you. To help you check the payment status, let's go over the steps that you need to follow right below.
Open your favorite web browser and go to http://br.teletalk.com.bd/bralm/admitcard/
Look at the top menu bar and click on the Payment Status option.
You'll find a new page where you need to put your USER ID in the empty box. Do that carefully and make sure that you get it right.
Finally, press the submit button below and it'll show you your admit card payment status.
How to Download Railway Admit Card 
You can download and save the admit card on your smartphone or computer easily. Let's check out the step-by-step guide that you can follow to download the railway admit card with your device.
First, go to your preferred web browser and visit http://br.teletalk.com.bd/bralm/admitcard/
That should take you to the admit card download page directly. Now, put your user ID and password in the required field.
Make sure that the information is correctly entered. Once you're done with that, press the submit button below.
That will take you to the new page with the admit card. Now, you can simply download and save it on your device.
Railway Admit Card Recover User ID/Password
Losing the user ID or password is a common thing among many people. But if you have lost any of those things, all hopes are not lost. You can still recover it quite easily from the Bangladesh Railway website. Below, let's check out the steps to do that.
Now, look at the top menu bar, find the Recover User ID or Recover Password, and click on the info you want to recover.
You'll have to put the required information on the box to find and confirm your identity. These pieces of information include your name, father's name, and mobile number for recovering your User ID, and User ID and mobile number for recovering your password.
Put these correctly in the required field and press submit. That'll show you your User ID/Password right away.
Wrapping Up
Hopefully, that helped you to get a clear idea about how you can download the railway admit card for yourself. Make sure to follow the steps properly, and you'll be able to get it very easily.


[ad_2]

Source link